What Our Customers Are Saying
---
Charlie DaCosta
"This builder has a philosophy of constructing good looking, high quality, energy efficient, tailored homes - the townhouse bungalows are especially tailored for accessibiltiy and the builder takes pains to get it right for each individual buyer.."
---
Dave & Angela Webster
"We absolutely love our new home. The attention to detail and quality is first class. From the moment we selected the home to the final inspection, there were no issues and always accommodating."
---
Jim & Debbie Pesme
"Having inspected thousands of new and resale homes as a home inspector for 25 years, I find Stephen Tobey to be one of the best builders I have seen."
---
Rod & Rhonda MacDonald
"These homes are so well built that we feel a sense of pride every time we come home. From the quality workmanship, finishes that go the extra mile and personalized service the experience was rewarding and pleasant."
---
Maria & Ken Wakimoto
"The workmanship and attention to detail is like non-other. It isn't any wonder Stephen has won so many national awards for his building and design skills"
---
Rhonda & David Lyttle
"We have been extremely pleased with the quality and workmanship of our new home and the building process with Tobey Developments. Stephen was always friendly, professional, and responsive. There were no surprises in the building process"
---
Ann & Alvin Jones
"The communication between Stephen, the staff and us was friendly and professional. Great work all around."
---
Dawn & Mike Akitt
"Gordon Tobey Developments is the best in the business of building"
"The Tobey family was there for us every step of the way"
---
Nathalie Daigle & Norman Polenz
"Having lived in 10 different houses in 5 different provinces, we can honestly state this house is significantly better than any of our previous homes. Stephen is meticulous for detail and all his craftsmen take pride in their workmanship, which is reflected in the quality of the final product.."
---
Alice Abbott & Doug Gower
"... Aside from being meticulous in all aspects of this build, we were especially impressed with the way that Stephen handled every detail right from his office.."
---
Doreen & Ken Cable
"We have now lived in our Tobey built home for four years and are as completely satisfied today as we were when we began this magnificent journey...... .it is worth the drive to Brighton to visit Gordon Tobey Developments. Perhaps your dream will come true, ours certainly did!"
---
Maureen O'Connor
"I absolutely love my house, the neighbourhood, the community AND my yearly heating bill"
---
Jacques & Pat Avery
"We had two dreams…first: downsize and upgrade our previous R2000 house to one that offers the highest quality and latest technology, with a 'Wow' factor, and second: find a community as friendly as our previous one in an enticing and relatively small municipality"
"Stephen and his team helped us build the southwestern style house we liked with a level of quality and energy efficiency that largely exceeded our expectations"
"We now live in a friendly community where we enjoy regular social gatherings with engaging new friends"
---
Alison & Brian Carter
"Our investigations determined that the quality of workmanship in a Tobey home exceeded all the other homes we looked at"
"This quality coupled with the energy efficiency of an R-2000 home, made a Tobey home an obvious choice"
"Excellent guidance and advice from the Tobey Team made the process stress-free from start to finish"
"We are thrilled with the final result – our home is everything we had hoped it would be"
---
Sandra & Henk Zwaan
"Accolades for Team Tobey – you were accommodating, open to our ideas, perceptive of our needs, innovative, flexible, professional and patient"
"The quality of the engineering and the implementation of the plan by highly skilled tradesmen was exemplary"
"Many thanks for a job exceedingly well done – we are truly delighted with our new wheelchair friendly custom home"
---
Mary & Bob Chester
"We did our homework before we selected Tobey Developments – our new home is everything we envisioned and more and validates Tobey's exceptional customer satisfaction reputation"
"We were constantly impressed with the construction team – they were friendly, professional and clearly focused on building a superior custom home"
"Communication was timely, open and stress free plus there were no money surprises at time of closing"
---
Paul & Gael Renaud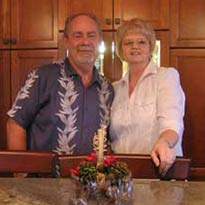 "We found the entire Tobey Team to be friendly, knowledgeable and helpful"
"Working with Stephen was easy - he shared wonderful ideas, listened to our ideas and kept us in the loop"
"We marvel - we got a builder we could trust, a hassle-free and enjoyable process and an R2000 home with no comparison built on time and on budget"
"We are living in the most beautiful home we've ever had"
---
Alan & Sally Hallworth
"Our dream home is a delight"
"Process was great from start to finish - we enjoyed seeing our home take shape"
"Our 2007 heating costs (heat, hot water and gas BBQ cooking) for our 3700 sq. ft. home was $881 including GST – even better than Stephen's forecast"
"Of special significance was Gordon Tobey's honesty - we like dealing with people like that"
---
Bill & Mary Jane Goodfellow
"We are thrilled with our new R-2000 home"
"We got what we wanted - on time and within budget"
"Your desire to understand Bill's very special needs to accomplish our goal was exceptional"
"The numerous compliments received on our home reinforces that we chose the right builder"
---
Ron & Lucy Roy
"Our demands were high"
"Can't imagine a better relationship"
"The result has been spectacular"